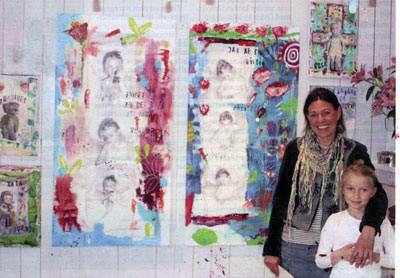 Liselott Toresdotter Lindberg
Liselott was born in 1954 in Stockholm, the capital of Sweden. She begun her career at SVT, Sweden's largest television company, in the early 70's and worked there for almost 25 years. Liselott was assigned as production leader, but she also got to express her creative side as costume assistant.
Aside from her work at SVT, Liselott designed a collection of children's clothing and dentist clothing. Her longing for trying new projects, through her creativity, provided her with the opportunity to make scenery during the Christmas holidays.
To express her creativity Liselott left her employment in 1996, for art school. Liselott has, since 2002, worked as an artist and makes most of her work in her own studio in Stockholm. She partly makes portraits in oil paint, but she mostly works with a mixed technique between photos and oil painting. As the costumer decides witch photos, labels, lyrics or messages he/she wants, Liselott creates a more personal painting. These paintings are often quite big (200×190 cm).
Liselott gets the inspiration for her creative activities everywhere.